Do you like to surf? Then Sagres is the right spot for you. But even if you aren't that much into watersports, Sagres offers you an amazing landscape as well. Take a look 😉
The hot spot for surfers is the Praia do Amado. Everyday surf schools and professional surfers come here to practice their surfiing skills. If you want to do a surf lesson I advice you to be before ten at the beach most of the lessons start at 10:30 in the morining. It is no problem booking lessons at the same day. One lesson is about 40€, two lessons with a break are around 60€. I did one lesson in Sagres as well. To be honest is was my first surf lesson and it totally flashed me. I just stood for a few seconds on the surf board but it was so much fun learning the steps how to surf. In the beginning the water was freezing cold but after falling into the water a few times i did not feel the cold anymore. Surfing was one of my highlights this holiday. Sadly the weather was not that good this day. But though the beach is very beautiful.
The Cabo de São Vicente at Sagres is the southwesternmost point of Portugal and of mainland Europe. The cliff at this point is up to 70 meters high and the Algarve ends there in a rocky, sparse and treeless landscape. On the Cabo de São Vicente is a lighthouse whose beam of light reaches 32 nautical miles across the Atlantic Ocean. It is considered as the brightest lighthouse in Europe. The view from there is unique. Often it is very windy due to the location, but a trip to this lighthouse is definatly worth it. When we were there the clouds were very low and we were even standing inside a cloud!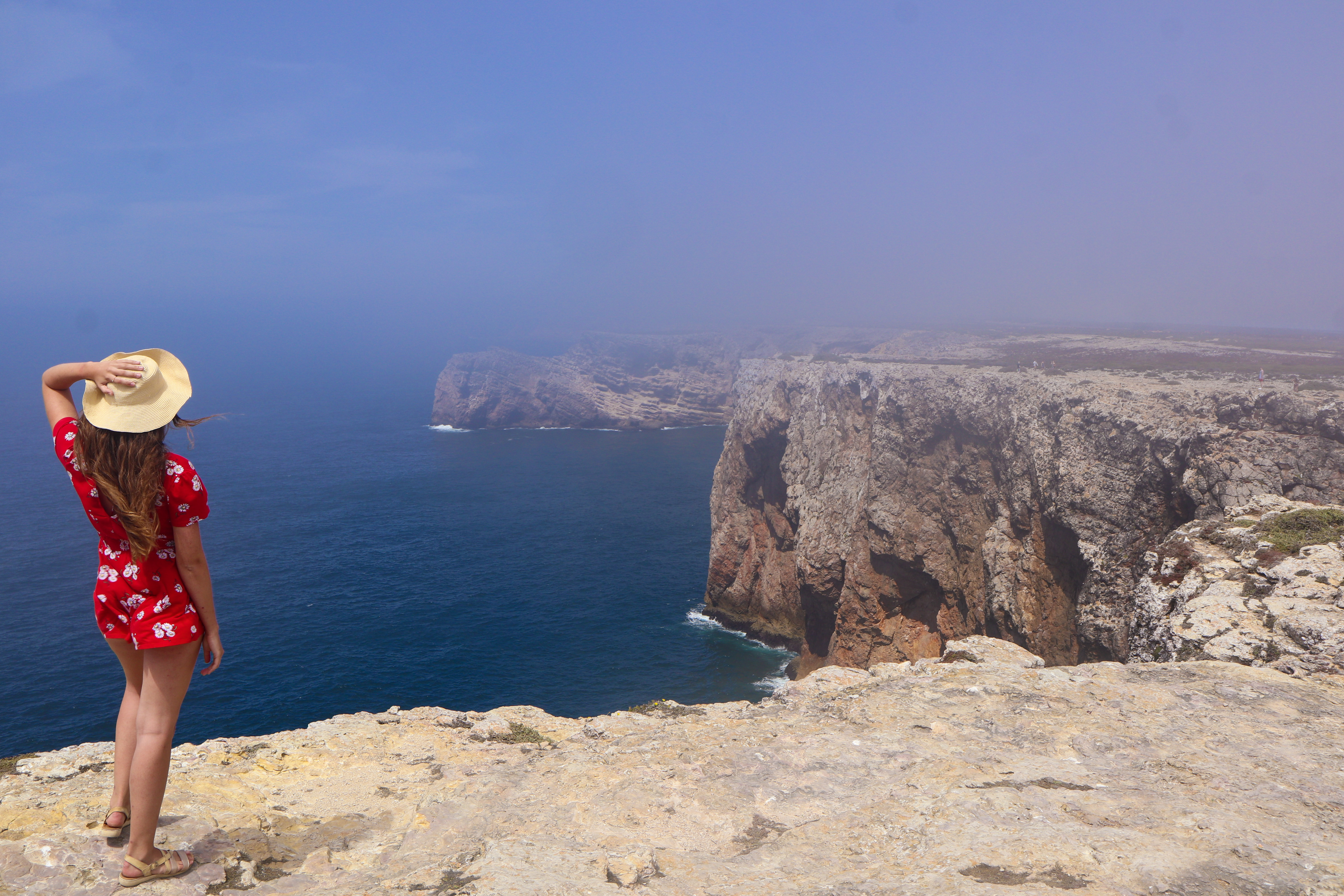 Last sausage stop before America
Sausage? Yes, you read it right, because there, at the southwesternmost point of Portugal, the German sausage stall is located.
Two Germans emigrated to Portugal to realize their dream of a sausage (german: "Bratwurst") stall in Portugal.
Nowadays it is one of the most famous sausage stalls in the world. Even the television visited the two for an interview. When you are on your way to the lighthouse, you will pass their stall and can take a look at it. And who knows, maybe you can enjoy a delicious sausage there too? 😉
We were told that main attraction of Sagres is the Fortaleza de Sagres. It is a unique defense structure because there is only one wall and the other three sides are protected by sheer cliffs. The fort is huge but relatively sparse with a small chapel, a wind compass and spectacular views of the mighty cliffs. It was not that spectacular than we thought it would be. The view at the cliffs is more interesting than the fort.